Category:
Digital Competence Centre
Authors: Meta Keijzer-de Ruijter, Masha Rudneva
Cooking class for researchers
Some people think that digital skills in research focus on learning how to program (Python, R, C++, MATLAB, etc.) or use digital tools to automate recurring tasks, but it entails a lot more.
Becoming a digitally-skilled researcher requires more than 'just' learning to use individual tools. It is like becoming a star chef: It does not suffice to know how to use the different cooking appliances (knife, mixer, oven, stove, etc). You also need to know how to run a kitchen efficiently, making sure all prepared ingredients for the dish come together on a plate at the right time without mixing up steps in the recipe that affect the final quality of the dish. To summarize, it is essential to consider, plan and prepare all steps and aspects of the research process workflow at the beginning of each research project.
The potential drawbacks
Implementing best practices in using digital tools requires a significant change in workflow to achieve efficiency and good quality outcomes. If not, code and other scientific outputs can be lost or become unusable by others in the future. Think about the master student who had done a great research and successfully graduated. However, after the student has left, the successors cannot find or re-use the developed code and have to start from scratch. So, the valuable contribution to the project is lost, and the continuity of the work is disturbed.
Also, if researchers do not document the actions and steps during the research project, they may need to figure out things twice when it comes to publication. Reproducibility of the results largely depends on good digital skill practices. So, how could one make sure that the research artefacts remain useful for society and successors?
The Open Science community formulated four main principles or the best practices helping in this process. Those are the "FAIR" principles, which stands for "Findable, Accessible, Interoperable and Reusable". So, let us analyze a typical life cycle of research software or code creation and see how to build FAIR principles and essential digital skills into your research project.
What "digital skill" ingredients do you need during your project?
At the start of a research project, it helps to have a good overview of the elements in the workflow in relation to the various stages of your project. In this section, we provide a roadmap that could help you to plan your work.
Step 1 – Preparation Phase:
Defining what you need to build and what tools will be used is essential.  
Analysis of the project requirements – What research questions do you need to answer, and what results do you want to achieve? Breaking down big questions into smaller problems/deliverables often helps in building a more modular code in the long run.
Investigation of the available codebases – Can you build your project on an existing platform, codebase or use available algorithms, for example, or do you have to "start from scratch"? It is often more efficient to re-use available resources, but you always need to check the licenses and conditions before using, copying or modifying the code of someone.
Learning about the best practices for Research Software development – a high-level understanding of the best practices allows you to avoid the common pitfalls and makes your work more efficient.
Choosing the platform, programming language and the concepts for the code produced – is the last preparation step. You are now ready to start the actual work.
Step 2 – Research project:
Creating the code or research software is only one piece in the whole story. The other essential aspects one should consider are:
Data Management – consider the best practices for data management at the beginning of the project by drawing up a Data Management Plan, which will detail how the data is structured, stored, and archived. Having a Data Management Plan will save you a lot of work and time later. Data Stewards at the faculties are available to provide you with all the support, training and information required (https://www.tudelft.nl/library/research-data-management/r/support/data-stewardship/contact)
Backing up the code – think about the storage with periodic automated backup or set up the backup routine yourself. If you use TUDelft research drive or SurfDrive, your code and data are automatically backed up for you. If you use your laptop or external hard drive, you can lose data if the storage drive is damaged. When storing in the cloud, make sure that your credentials are secured, and you will always be able to retrieve them if forgotten.
Documentation – code by itself can be great but not (re)usable by others if no documentation is attached. It might be challenging to remember and understand what the code is doing a year later. So, having proper documentation is a valuable step in making your code reusable by yourself and others.
Metadata to describe your code and results – metadata can be as broad and descriptive as possible. It may contain information about the code creation (author, date, OS, configurations) and describe when and how to use it. Adding appropriate metadata can make your code more findable.
Use of Version Control – this is an essential part of any research project. It allows you to see and manage changes to files over time, keep track of those modifications and ease the collaboration and co-creation of the code for you and your colleagues. The use of GitLab, GitHub or other version control systems ensures that you can always go back to the previous version of your code if something went wrong at the current state. It enhances the reproducibility of the research produced.
Testing / Distribution – you should build tests into the code at various stages to make debugging easier, mitigate potential errors and ensure that you and others can use your code without errors and reproduce results.
Security and Privacy – you often need to build some security features or choose the framework with the built-in security to keep classified and sensitive data well-protected and keep vulnerabilities out of your system.
Step 3 – Publishing and Sharing
Now, the code has been built, and the first results are obtained. It is a perfect moment to celebrate, but this is not the end of the story. Now think about the sharing and archiving of your results. If you would like the community to use your results, your code should have a license, be stored where others can find it, have explicit metadata attached to it and possess unique identifiers. But no worries, if you have followed the FAIR principles, you are well-covered.
Licensing – Whether you want others to (re)use your code or you are thinking about patenting your software, you should choose a license for it. The most common software license models are Public domain, Permissive, LGPL, Copyleft and Proprietary – they are different types of licenses varying from completely open to fully restricted.
Often if you are developing software openly, e.g. on GitHub/GitLab, the advice is to choose a license at the beginning. This also has implications for registering the software as per the Research Software policy.
Citations – Citing the sources you used acknowledges and gives credit to the authors. It also allows others to learn more about the previous work your project is built upon. To make your code more citable, it is worth adding a citation file (CFF) to your repository (https://citation-file-format.github.io/)
Publishing – there are many platforms on which you can share and publish your code, e.g. GitHub or SourceForge. Publishing and sharing your project on these platforms can attract collaboration and increase visibility. Please remember that the code or any digital object should have a Digital Object Identifier (DOI) to make it easier to find or cite. If the data/code cannot be shared, you can still share the metadata in a repository so that others can find your project and request access to it.
Archiving – when the project is over, you may want to archive your code in a repository to access it in the future. Code can be archived at, for example, 4TU.ResearchData or at Zenodo.
Digitization brings a lot of opportunities to researchers to do more advanced research and collaborate with others. But it requires adjustments to the workflow, development of a common language and learning skills to effectively use new tools that come available. The good news is that at TU Delft, we have training courses and excellent support available through the Digital Competence Center (DCC, https://dcc.tudelft.nl/ ) and Data Stewards that can help you run your kitchen as a star chef in the digital age.
Who are we?
Meta Keijzer-de Ruijter:
Meta has a background in Chemical Engineering and Corporate Education. She spent more than 10 years in the ICT Innovation department developing digital assessment in education at TU Delft. Recently, she became a project manager of the FAIR Software project within the Open Science Program. Together with colleagues in ICT Innovation and Research Support at the Library, she set up the Digital Competence Center (DCC) support team. She currently investigates the needs for digital skills for researchers.
Masha Rudneva:
Masha has got her PhD in Physics at TUDelft and recently joined the ICT department as an Innovation Analyst. She focuses on supporting researchers in challenging ICT related requests.
It is the first in the series of blog posts in which we want to talk about the work we do to support the researchers as the Innovation Department and DCC team to reflect on the things we come across.
Author: Ashley Cryan, Data Manager , TU Delft Digital Competence Centre
Tuesday, October 12 was a momentous day for the TU Delft Digital Competence Centre (DCC). A little more than a year after the new research support team of Data Managers and Research Software Engineers came together for the first time, the Share, Inspire, Impact: TU Delft DCC Showcase Event took place, co-hosted by the TU Delft Library's Research Data Services team, ICT- R&D / Innovation and the TU Delft High Performance Computing Centre (DHPC).
Researchers from across all faculties at the University joined the virtual live event, aimed at sharing results achieved and lessons learned from collaborating with members of the DCC during hands-on support of projects involving research data and software challenges. The exchange of experiences and ideas that followed was a true reflection of the ingenuity and collaborative spirit that connects and uplifts the entire TU Delft community.
Inspiring opening words from TU Delft Library Director Irene Haslinger invited researchers, staff and representatives from academic communities like Open Science Community Delft and 4TU.ResearchData to reflect together and help distill a common vision for the future of the DCC. The DCC's core mission is clear: to help researchers produce FAIR (Findable, Accessible, Interoperable, and Reusable) data, improve research software, and apply suitable computing practices to increase the efficiency of the research process. Event chairperson Kees Vuik and host Meta Keijzer-de Ruijter guided the discussion based on the fundamental question, how best can researchers and support staff work together to achieve these important goals in practice?
"In the effort to promote and support FAIR data, FAIR Software, and Open Science, everyone has a role."
– Manuel Garcia Alvarez, TU Delft DCC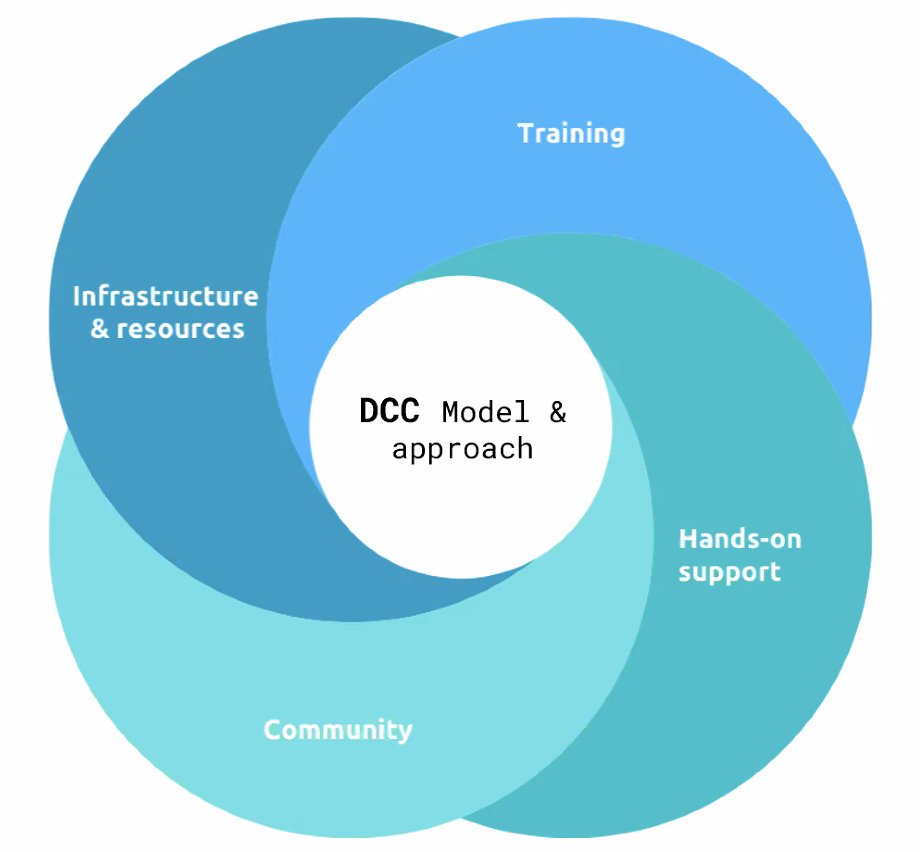 Manuel Garcia Alvarez began with a presentation on the DCC working model and approach to the above question. After a year of trialling process-in-practice, the support team model is defined by four building blocks based on observed researchers' needs: Infrastructure and Resources, Training, Hands-On Support, and Community. Researchers require sufficient access to and understanding of IT infrastructure and resources available through the University – robust computing facilities, secure data storage solutions, platforms for digital collaboration – in order to facilitate analysis workflows and achieve their research goals. The DCC support team works closely with staff in the ICT department to ensure that researchers can select, deploy, and manage computational resources properly to support their ongoing needs. Hands-on support is offered by the DCC in the form of support projects which last a maximum of six months, working closely in collaboration with research groups. This type of support blends the domain expertise of the researchers with the technical expertise of the DCC support team members to address specific challenges related to FAIR data/software and computational needs. Researchers can request this type of dedicated support by submitting an application through the DCC website (calls open several times per year).
Of course, the DCC support team came into existence as part of a broader community focused on supporting researchers' digital needs: one that is made up of the faculty Data Stewards, ICT Innovation, Library Research Services, the DHPC, and the Library team for Research Data Management. The DCC contributes to ongoing training initiatives like Software and Data Carpentry workshops that equip researchers with basic skills to work with data and code, as well as designs custom training in the context of hands-on support provided to research groups. One such example is the "Python Essentials for GIS Learners" workshop, designed by the DCC during support of a project in ABE focused on shifting to programmatic and reproducible analysis of historical maps (the full content of this course is freely available on GitHub). 
The program featured a lively Round Table discussion between researchers who received hands-on support from the DCC and the DCC members that supported them, focusing on the DCC model of co-creation to help researchers solve complex and pressing data- and software-related challenges. Researcher panelists Omar Kammouh, Carola Hein, and Liedewij Laan shared their experience working alongside DCC members Maurits Kok, Jose Urra Llanusa, and Ashley Cryan in a spirited hour of moderated discussion. Each researcher panelist was invited first to introduce the project for which they received DCC support in the context of the challenges that inspired them to submit an application to the DCC. Then, DCC members were invited to elaborate on these challenges from their perspective and highlight the solutions implemented in each case. The DCC style of close collaboration over a period of six months was positively received by researchers who found the engagement productive and supportive of their research data management and software development process. The need to develop a kind of "common language" between members of the DCC and research group across domain and technical expertise was highlighted in several cases, and served to clarify concepts, strengthen trust and communication, and build knowledge on both sides that aided in the delivery of robust solutions. Practical benefits from the application of the FAIR principles to researchers' existing workflows and outputs were also mentioned across cases. Collaboration with the DCC enabled researchers to share their data and software more broadly amongst direct collaborators and externally to the wider international research community. The last question of this discussion was whether Omar, Carola and Liedewij would recommend that other researchers at TU Delft apply for hands-on support from the DCC: the answer was an emphatic yes!
Attendees then had the option to join one of the four thematic breakout sessions: Community Building; Digital Skills and Training; Looking Ahead: Impactful Research Competencies of the Future; and Infrastructure, Technology and Tooling for Scientific Computing. Moderators Connie Clare and Emmy Tsang in the Community Building breakout room invited research support professionals from across universities and countries to share their experience being part of scientific communities, and found that recurring themes of knowledge sharing, inclusivity, friendship and empowerment wove throughout most people's positive experiences. The discussion in the Digital Skills and Training room, moderated by Meta Keijzer-de Ruijter, Paula Martinez Lavancy, and Niket Agrawal, touched upon existing curricula and training programs available at TU Delft to help researchers and students alike develop strengths in fundamental digital skills like programming and version control. In the Looking Ahead room, moderators Alastair Dunning and Maurits Kok led a lively discussion on challenges related to rapidly advancing technology, and how the provision of ICT services and infrastructure solutions can avoid becoming a kind of "black box" to researchers. The Infrastructure, Technology and Tooling room, led by Jose Urra Llanusa, Kees den Heijer, and Dennis Palagin, discussed researchers' need for IT infrastructure and technical support in the specific context of their research domain, including specialised tools and security measures that can help facilitate international collaboration. When the group came together in the main room to share summaries of each room's discussion, the common themes of scalability, collaboration, and a balanced approach to centralised support emerged.
"Support staff need to always work in partnership with researchers. In the future, we need both central and local DCC support and collaboration to continue learning from each other."
– Marta Teperek, Head of Research Data Services and 4TU.ResearchData at TU Delft
The closing words delivered by Rob Mudde, Vice-Rector Magnificus and Vice President Education, were a fitting end to a spirited day of reflection and discussion. Acknowledging the work of many to bring the TU Delft Digital Competence Centre into reality and its ethos as a hug of knowledge, connection and inclusivity, he stated, "As a university, we are a big community – we stand on one another's shoulders. It's collective work that we do. You can see how the DCC engages across disciplines to help all go forward."
The DCC extends its warm gratitude to all those who made the "Share, Inspire, Impact DCC Showcase Event" happen, in particular event planning leads Deirdre Casella and Lauren Besselaar, and all of the panelists, speakers, session leaders, and participants who made the discussion so engaging and memorable. The team looks forward to continuing to work with researchers in the TU Delft community and building capacity toward a shared vision for the future we can all be proud of.
Visit the TU Delft | DCC YouTube playlist to view testimonials of researchers and the DCC Event aftermovie (forthcoming).